---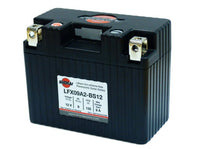 12V, 9Ah Shorai Xtreme-Rate LiFePO4 LFX "A" Polarity Lithium Iron Battery will hold a charge for one year without maintenance and is ultra light with an average weight of one fifth the weight of lead-acid batteries. The 9Ah is generally recommended for vehicles up to 250cc.
If the LFX is slightly smaller than the original battery in one dimension or another, high-density, adhesive-backed foam sheets are included in the package. These can be trimmed and applied to the battery box in minutes, to make a solid fit, and with added thermal and vibration insulation.
Replaces the following models: YTX4L-BS, YTX5L-BS, YTX7A-BS, MBTX4U, MBTZ7S, MB7U, MBTX7U, MB9U, MBTZ10S, 12N9-BS and many more!
Please Note: not for use in electric scooters. Shorai Batteries require a charging system output of 13.1 Volts or higher at idle, and must not exceed 15.2 volts at maximum output.
**Shorai Inc. offers a Limited Three-Year Warranty for LFX batteries, for defects in material and/or workmanship, pertaining to sales originating within North America. Please click here for more information or to submit a warranty application.**