---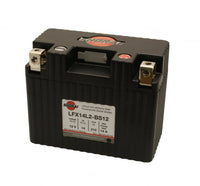 12V, 14Ah Shorai Xtreme-Rate LiFePO4 LFX "L" Polarity Lithium Iron Battery will hold a charge for one year without maintenance and is ultra light with an average weight of one fifth the weight of lead-acid batteries. The 14Ah is generally recommended for vehicles up to 500cc. Also, ideal for use on the Honda Ruckus.
If the LFX is slightly smaller than the original battery in one dimension or another, high-density, adhesive-backed foam sheets are included in the package. These can be trimmed and applied to the battery box in minutes, to make a solid fit, and with added thermal and vibration insulation.
Please Note: not for use in electric scooters. Shorai Batteries require a charging system output of 13.1 Volts or higher at idle, and must not exceed 15.2 volts at maximum output.
**Shorai Inc. offers a Limited Three-Year Warranty for LFX batteries, for defects in material and/or workmanship, pertaining to sales originating within North America. Please click here for more information or to submit a warranty application.**