---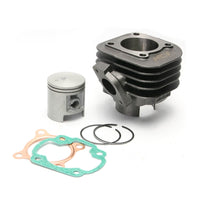 NCY 47mm Cast Iron Jog/Minarelli 2-stroke Cylinder w/o Head (reuse your stock head). This cast iron, 2-ring kit is Ideal for bikes intended for more regular use.
A simple bolt on 72 cc kit for minarelli based, air cooled, 2-stroke scooters with a 10mm wrist pin. Don't forget that with every 2-stroke cylinder kit upgrade, it's necessary to either supplement the stock oil injection system with about a tablespoon of two stroke oil in your gas tank every fill up or eliminate the injection system and pre-mix. We recommend Ipone oils for all of NCY's big bore kits. Both 1400-1005, City Oil 2 and OIL-IPCITY, Scoot City Strawberry Synthetic are great options.
Also, don't forget to upjet your carburetor. We recommend starting your jetting rich and then working your way down to the perfect mix.
Specs:
AC Iron Cylinder Kit
47mm Bore (68cc with stock stroke)
5 Transfer Ports
10mm Wrist Pin
2 Compression Rings
Open Exhaust Port
Not legal for use in California on pollution controlled vehicles. Check local laws before installing.