---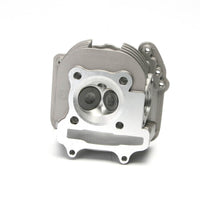 Valve Size: Intake-27.5, Exhaust-23.5
This head will allow your cylinder to breathe better! Works great with our 61mm cylinder assembly. See below for dyno results.
And you're wondering how can this get even better, right? Check out these Stainless Steel racing Valves to go with your new top end.
When changing a cylinder kit or an exhaust, it's a good idea to pick up a few extra 8mm Studs, since these can easily need replacing and bring your project to a grinding halt while you wait.
These nuts are essential. The smaller, 10mm diameter head allows for extra clearance between your wrench and the head for easy access.
Standard 8mm thread diameter.
This product is intended for off-road use only.
Not legal for use in California on pollution controlled vehicles. Check local laws before installing.