---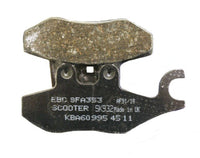 EBC Brakes SFA353 Organic Scooter Pads for:
Aprilia
- Sport City 50 4T (08-14), SR50 Motard 4T (12-15)
Piaggio
- Fly 50 2T (05-06), Fly 50 4T/2V (07-10), Fly 50 4T/4V (11-15), Typhoon 50 12" wheel (10-11), Typhoon 50 14" wheel (12-15), Typhoon 125 (10-15), Fly 150 4T/2V (06-12), Fly 150 4T/3V (13-15), BV 250 (06-11), BV 300 Tourer (10-12), BV 350 (12-15), MP3 400ie (07-15), MP3 500 (07-15)
Vespa
- Primavera 50 (13-15), Sprint 50 (14-15) Primavera 150 3V/ie (13-15), Sprint 150 3V/ie (14-15), 946 (155cc/3V/ie) (13-15), GT 200L Granturismo (05-09), GTS 250 (05-09), GTV 250 and LXV 250 (07-09), GTS 300ie (08-15), GTS 300 Super (10-14), GT 60 (250cc) (06-08), GTV 300ie (10-15)
May fit other makes & models.The SFA series organic range are a great choice for everyday commuter use on modern scooters and lighter motorcycles.
SFA pads provide the instantly available stopping power desired for urban scooter brakes. SFA Series Organic Scooter Pads are British made using aramid fibers. The SFA series offers an original organic series quality scooter brake pad with great performance, above average lifetime and reduced disc wear characteristics. Suitable for all size and styles of Scooter and brake disc materials. SFA Series Organic Scooter Pads are made in the UK by EBC Brakes and are a world number one seller with over 35 million sets sold since the EBC Company was created.
EBC brake pads contain Aramid fibers, these are man-made high performance fibers, used widely for their light weight, high strength, abrasion resistance and thermal stability. They are used as reinforcements in ballistic protection (bullet-proof helmets and vests, vehicle armor), cut-resistant gloves, aircraft and marine structural parts, power transmission belts and of course friction products where their high strength to weight, thermal stability and abrasion resistance provide advantages over cheaper steel fiber based products.
Please see our
Warranty & Returns Policy.