---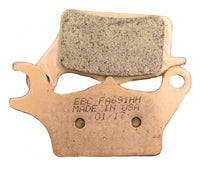 EBC Brakes FA691HH Sintered Front Brake Pads for Kawasaki Z125 (2016-2017) Motorcycles.
The Double-H series of brake pad is a fast superbike or street brake pad that has a long lifetime and gives ultra high braking effect in any condition, dry or wet. ECE R 90 approved and TÃœV tested.


Double-H™ Sintered Superbike Brake Pads deliver high performance and are well known as the EBC flagship sintered streetsport brake pad. ECE R 90 brake safety approved and TUV tested, these ultra high friction HH rated brake pads remain a market leader above the rest as nothing else beats the performance of the Double-H™ Sintered Superbike Brake Pad. Manufactured in the US in the state-of-the-art sintering plant in Ohio, Double-H™ Sintered Superbike Brake Pads perform well in all weather conditions be it dry or wet and have a high longevity lasting for many miles.
Please see our
Warranty & Returns Policy.