---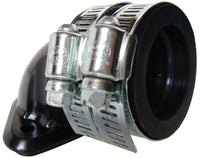 NCY intake manifolds offer a smooth bore and larger inlet diameter over stock. Combined, these two assets allow more air and more fuel into your cylinder, giving you more power.
Intake manifold upgrades are a must for larger carburetors. It doesn't make sense to install a large carburetor only to have its flow restricted by the manifold. Larger manifolds can make a noticeable power increase on their own, and provide a choice option over the standard rubber manifolds. Long lasting parts, and more power. Its win-win.
Cast aluminum intake manifold.
Fitting=30mm
Inlet Bore= 25mm
Two vacuum fittings
When installing a larger carburetor and/or intake manifold, please verify the engine side diameter of the carburetor for proper fitment into the manifold.
Not legal for use in California on pollution controlled vehicles. Check local laws before installing.