---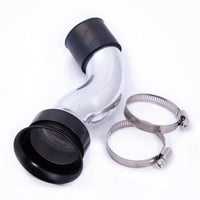 Smooth bore high performance intake manifold for most GY6 scooters. This manifold provides smoother air flow to the carburetor allowing more air past the venturi. When power is on the line, every bit counts.
We recommend this manifold for large carburetor applications. It will fit most carbs from 24-40mm from Mikuni, Keihin and Dellorto.
Not legal for use in California on pollution controlled vehicles. Check local laws before installing.