---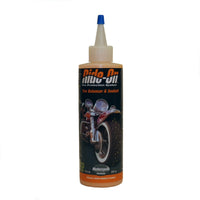 Ride-On Tire Protection System Tire Balancer, Safety Solution & Sealant, 8 oz. For case order quantity 12.
Ride-On Tire Protection System (TPS) Motorcycle Formula is formulated for high-speed and off-road applications in motorcycles, scooters and trikes.
Ride-On TPS is designed to seal most slow leaks and punctures in the contact patch of the tire, prevent flats, balance tire/wheel assemblies, extend tire life and reduce downtime.
Come tire change time, the environmentally friendly formula rinses away cleanly. Just wipe your wheel down with a damp shop rag and mount your new tire. Ride-On TPS contains corrosion inhibitors that protect aluminum, steel and alloy wheels from rust.
Click here to view the Ride-On Dosage Table.
Important Notice: After installing Ride-On TPS Motorcycle Formula sealant into your tires you may notice a slight vibration until the sealant has warmed up and distributed evenly in your tires. This process usually takes 2 to 5 miles. Please DO NOT attempt to rebalance tires after the installation of Ride-On TPS Motorcycle Formula. Ride-On TPS is a balancing compound. Ride on TPS will act as a balancer and will result in erroneous readings from a dynamic spin balancer that does not compensate for tire deflection, weight of the bike, brakes or other suspension components. Ride-On is TPMS friendly, however it is not recommended for use in 2009, 2010 and 2012 Honda Gold Wings as their TPMS Sensors are not hermetically sealed.