---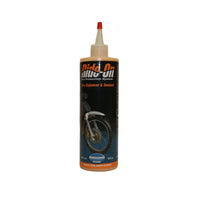 Ride-On Tire Protection System Tire Balancer & Sealant for Scooters, 16 oz. For case order quantity 12.
Ride-On Tire Protection System (TPS) Motoscooter Sealant Formula is specifically designed for smaller inner city motorcycles, scooters, mopeds, electric bikes and motorized rickshaws. It is for motorcycles and electric bikes that cruise at a maximum of 60 mph (97 km/h). It works very well in tube and tubeless tires, although the efficiency in tube tires is lower as tubes can tear when punctured. No dosage tables are needed, 8-ounces (half a 16-ounce bottle per tire) is all that is needed to protect the tires of any scooter, electric bike or moped.
Come tire change time, the environmentally friendly formula rinses away cleanly. Just wipe your wheel down with a damp shop rag and mount your new tire. Ride-On TPS contains corrosion inhibitors that protect aluminum, steel and alloy wheels from rust.
Important Notice: After installing Ride-On TPS Motorcycle Formula sealant into your tires you may notice a slight vibration until the sealant has warmed up and distributed evenly in your tires. This process usually takes 2 to 5 miles. Please DO NOT attempt to rebalance tires after the installation of Ride-On TPS Motoscooter Formula. Ride-On TPS is a balancing compound. Ride on TPS will act as a balancer and will result in erroneous readings from a dynamic spin balancer that does not compensate for tire deflection, weight of the bike, brakes or other suspension components.