---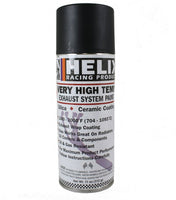 Helix Racing Products Very High Temp Exhaust System Paint - choose from 4 various colors! Select Colors on Clearance: Gray.
Helix Very High Temp Exhaust Paint is a great way to extend the life and color of exhaust system components including fiberglass exhaust wraps and pipes. This paint is formulated for components that require high temperature paint applications. The Helix exclusive ceramic formula increases heat dispersion to maintain and protect paint finish. Withstands intermittent temperatures of up to 2,000° F and is oil and gas resistant.
Other applications include radiators, oil coolers, manifolds, engine cases and more.