---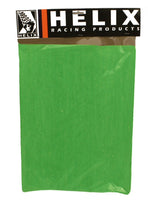 POWERSPORTS ALL-GASKET Premium Gasket Material is for all motorcycle and powersports applications. The latest in gasket technology allows one material to be used for several applications. This gasket material is manufactured in Europe and is superior to other gasket materials available on the market today.
POWERSPORTS ALL-GASKET is resistant to oils, solvents, fuels, mild acids and alkalis, water, low pressure steam, air and other gases. It has service conditions up to 750 deg. F and is flexible, easy to trace and cut with scissors or razor knife.
Seals engine case side covers, valve covers, base and cylinder, transmissions, drive line components, water pumps, thermostats, fuel pumps, oil line and hose flanges. It also has favorable properties for high heat insulation and exhaust mount insulation.
Each pack contains 2 sheets of gasket material - 1/32"(.032") thick X 11.5" wide X 15.5" long. The material is premium compressed sheet, manufactured with aramid and other synthetic fibers and uses an NBR (Nitrile Butadiene Rubber) binder.