---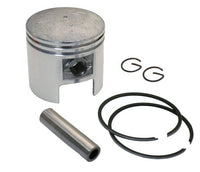 Universal Parts 47mm Piston Kit for Morini AD50 engines commonly found on Hyosung, Suzuki and TGB Street Scooters.
Includes piston, piston pin, rings and cir clips.
The Moto Morini TGB Suzuki style 50cc engine is a horizontal, single-cylinder, 2 stroke, air cooled, reed valve configuration engine. The displacement is 49cc. This engine has a bore of 41mm and a stroke of 37.4mm. The transmission is a V-belt stepless automatic transmission. This engine can be started by either electric or kick start.
The Moto Morini and Franco Morini engines are used by numerous manufacturers including Aprilia, Italjet, KTM. Malaguti and many others. Some of these include the Benelli 491 ST, Derbi Vamos, Italjet Formula 50, Italjet Formula 50 LC, Italjet Torpedo 50, Italjet Velocifero 50, Malaguti Crosser CR1, the TGB/Peirsport engines Peirspeed Bolero, Peirspeed Delivery, Peirspeed Key Largo, Peirspeed Key West, Peirspeed Laser R5, Peirspeed Laser R9, Peirspeed Outback, Peirspeed R50X, Peirspeed RM50, Peirspeed Sunset, Suzuki Address 50, Suzuki AP50, Suzuki AZ50, Suzuki Hi-Up, Suzuki Lets II, Suzuki Mollet 50, Suzuki SJ50-QT, Suzuki Sepia 50, Suzuki Sepia ZZ, Suzuki Street Magic, Suzuki TR50, Suzuki Verde, Suzuki ZZ and others...