---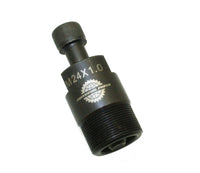 Universal Parts Flywheel Puller, 24mm x 1.00 Right Hand Thread (Male).
Fits most Asian and European Import Scooter models, Suzuki and Kawasaki 50cc Mini models, Honda 50cc-80cc Mini Bike QA, MR, CH, CR Series, (1995-present) RS125 Road Racing models and QMB139 engines.


**Note: This is a non-returnable item. Please confirm this is the correct item prior to purchasing. Please see our Warranty & Returns for further detail.