---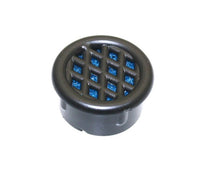 Uni's Foam "Filtered Air Vents" increase the amount of air to the air filter for a better air supply and improved performance. The removable foam element may be cleaned and re-oiled for years of dependable service. Uni Foam "Filtered Air Vents" are for Street, Dirt and ATV applications.
In some airboxes, air flow may be improved enough that re-jetting may be required for optimum performance and engine protection. Check for proper jetting immediately after installing this product.
Uni "Filtered Air Vents" are not meant to be primary air filter elements, they are a pre-filter designed to remove only large contaminants without restricting the airflow to the air filter element.
*Not legal for sale or use on California pollution controlled vehicles.