---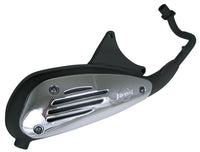 The Sito Plus is hands down the most popular upgrade exhaust for the Vespa ET4. Similar in looks to a stock pipe, and just a tad louder, it gives a boost in performance by allowing air to flow through more freely.
Don't forget you'll need to rejet your carb!
This product is intended for off-road use only.