---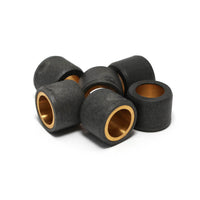 Great quality roller weights for scooters using GY6 150 engine in scooters and go carts. Lower your stock weight (12-14) with 10s or 11s for a great performance upgrade for better take and just plain replacing worn out stock weights.
18X14 mm roller set for Buddy 125, Blur, and many other scooters. Buddy 125 takes 11.5g stock rollers, and Blur takes 14g stock, so play with some different weights and make it rip!
Roller weights are used for fine tuning your scooter to get the most out of what you need from your scooter.
Tuning Tips:
Light rollers are good for quick acceleration, stop and go riding and hills, but you loose top end speed. Heavy rollers will give you a higher top end speed (long roads) but you will loose low end acceleration.
If you're a heavy person (and/or) if you have a stock motor you will want to lean towards the lighter rollers. If you are a light person (under 140lbs) or you have a big bore you will want heavier rollers